From air quality concerns to evacuations, wildfires impact pretty much everyone. We've rounded up some resources to make sure you're prepared as we head into Idaho's wildfire season.
Fly Over The Soda Fire: Rehabilitation Teams Already Making Plans To Reclaim The Landscape
The Soda Fire was officially contained this week, at 445 square miles. Now thoughts turn to reclaiming the landscape southwest of Boise.
A team of 40 specialists spent five days in the field, surveying the burned area. Their goal is to find and fight threats to life, property and resources over the next three years.
T.J. Clifford is the Burned Area Emergency Response (BAER) Team Leader for the Soda Fire. The team is working for the Bureau of Land Management but is made up of people from multiple agencies.
Clifford says when he walked through the burned areas he saw lots of black landscape, and very little green.
"That's a little abnormal," Clifford says. Usually there will be many islands of unburned land, sometimes as large as a few hundred acres in size. Not so on the Soda Fire.
"Those unburned islands are usually less than about five acres and even within that five acres it appears that the shrub component has still been lost."
Clifford says he's worried about three things: flooding, invasive plants and future fires.
"The most immediate threat that we've identified is the potential for roads and bridges to get flooded."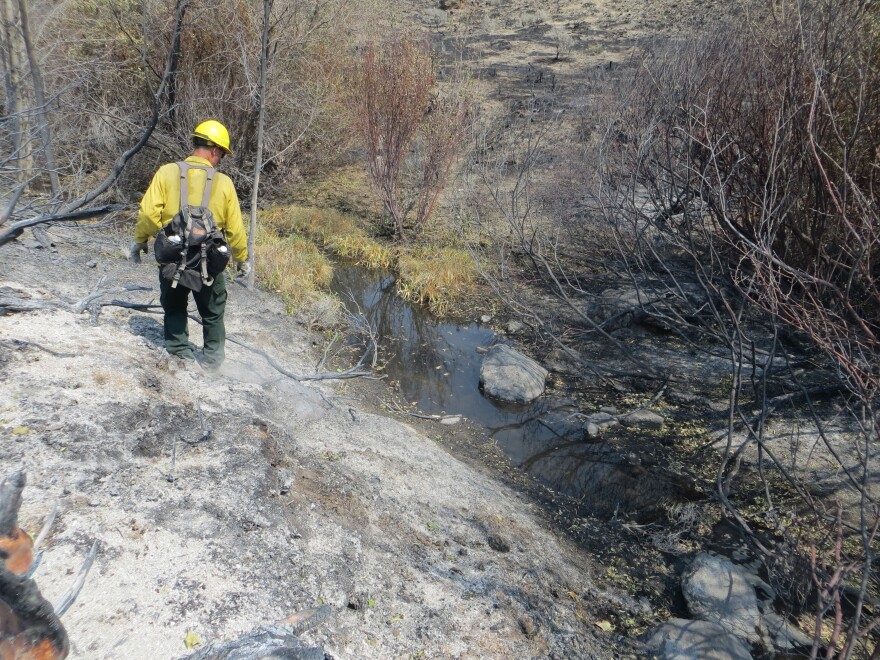 He's also worried about invasive cheat grass and medusahead.
"They're a little faster. They come in earlier in the spring so they beat most of the native vegetation. That's a very real threat for those non-native or exotic annual species to take over."
When those invasives take over, Clifford says they change the fire frequency.
"Something that's dominated by cheat grass will burn almost every year. That change makes it very difficult to re-establish the sagebrush, so important to that area."
Take a flight over the Soda Fire landscape with this footage shot by E. Hipke of the BLM.
Clifford says it can take up to 30 years for sagebrush to reestablish itself. That means preventing future fires on the landscape.
"So we have a full 30 years to re-establish that sagebrush and that habitat so important to the sage grouse."
He says cooperation between state, federal and private landowners is key to rehabilitating the land burned in the Soda Fire.
"It is going to be very important for all the agencies to figure out a way to set aside the funding and the energy to accomplish this task. It's not going to be easy."
Clifford says his crew has three weeks to write their plan and get it approved by the BLM. The initial plan covers three years, but rehabbing such a large area could take decades. The hope is to start rehabilitation efforts as soon as October.
Find Samantha Wright on Twitter @samwrightradio
Copyright 2015 Boise State Public Radio