Boise Couple's Film Lets Vietnam War Marines Share Their Stories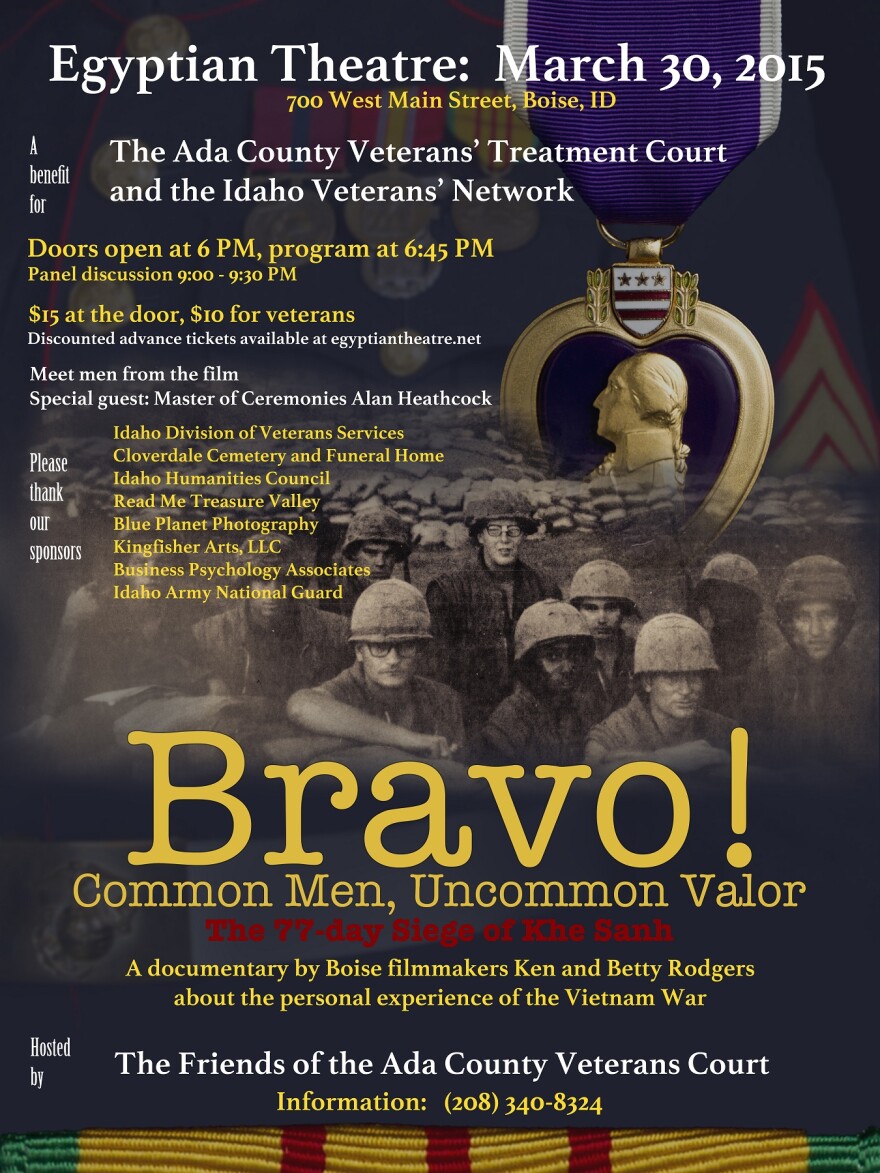 Forty-seven years ago, Boise filmmaker Ken Rodgers found himself in the middle of the longest battle of the Vietnam War. Now, his mission is to make sure no one ever forgets the men he fought with.
Rodgers' documentary film "Bravo! Common Men, Uncommon Valor" is a look back at the battle of Khe Sanh.
In 2009, Rodgers and wife Betty attended a reunion of Khe Sanh veterans. The Marines traded war stories.
"Bloody sandbags and severed limbs, defying enemy fire to carry a wounded Marine to safety, dead bodies scattered in the enemy trenches," were just some of the stories Rodgers remembers.
Betty and Ken left the reunion wanting to share the stories they'd just heard. So with no experience in film making, they decided to make a documentary about Khe Sanh by interviewing the men who were there. Fifteen Marines told their stories on camera.
"What it was like to endure the siege, what life was like in the trenches and then in the end they talk about what it was like to come home and what it means to them now," Ken says.
The battle started in January 1968. Six-thousand Marines held off more than 20,000 North Vietnamese soldiers for 77 days.
When the fighting began, Rodgers says North Vietnamese forces used artillery, rockets and mortars to overrun the village of Khe Sanh.
"We were right next to the ammo dump and they hit the ammo dump and it went up and went off for hours," he says. "It was killing our own people and maiming them. We took incoming for every day after that."
Rodgers says despite the warnings, it was still a surprise.
"They said we're going to get hit for so long that I don't think a lot of us really believed it," he chuckles. "So it was a shock. And some of us hadn't been in a whole lot of combat, a lot of the guys in our unit were brand new so they didn't have any idea what was going on."
When it came time to tell their stories for the film, Betty Rodgers says the Marines didn't hold back. She says they laughed and cried as they shared their experiences.
"I think what touched me the most was how willing they were to express those emotions and be so brutally honest with what it was like at the time and how they feel about it now and what it was like coming home," she says.
Ken Rodgers says the film isn't meant to come off as pro or anti war. Instead, it's meant to capture history.
"I think the film does a pretty good job of showing what combat is like without you having to be there," he says. "It's not about glory and it's not about all the stuff you see from Hollywood, it's frightening, it's horrible, it's savage. People who haven't done this have no idea what it's like."
The Rodgers will show their film "Bravo! Common Men, Uncommon Valor" Monday night at the Egyptian Theater in Boise as part of "Read Me Treasure Valley 2015." It will also shown Wednesday at the College of Idaho in Caldwell.
Find Samantha Wright on Twitter @samwrightradio
Copyright 2015 Boise State Public Radio