How One Group's Nostalgic Hobby Became A Treasure Valley Holiday Tradition
Most people leave their childhood hobbies behind them when they grow up. (It's hard to justify your Beanie Baby collection in college, for example.) But for members of the Old Boise N-Scale Model Railroad Club, their passion has only gotten stronger with age.
"We just love trains, and this is great therapy from our day jobs," says club member Jim Brostmeyer.
Brostmeyer is an engineer at HP by day – but a train engineer on nights and weekends. He has about 50 engines and 200 train cars, some of which are on parade at the club's annual holiday display in the basement of the Pioneer Building in downtown. On a recent Saturday, the model train room is packed with families.
"So if you put it in real-scale miles, this is over 1,000 miles of track," says Brostmeyer. "We have about 500 switches, and about 3,000 pieces of rolling stock or train cars, and there's a lot that you don't even see in the back."
That's right – if the display was to human scale, you could hop on the train in Boise and end up in San Diego. N-scale trains are some of the smallest, which gives the members plenty of room to build tracks side-by-side.
Brostmeyer says since he was a kid first interested in model trains the technology has vastly improved, giving them even creative leeway to build more intricate layouts.
To club member Darrell Sterling, the hobby gives him a creative outlet. He's been with the group since it began 17 years ago.
"We don't have real strict bylaws and things," says Sterling. "Where some clubs – it's almost like a job. And you don't want that. We've been able to avoid that and just keep it fun."
Sterling says everybody brings something different to the table. So what's his talent? Sterling visits rail yards in the Treasure Valley and takes photos of the graffiti on the cars, then shrinks them down and sticks them on his tiny model trains. To him, these kinds of details allow visitors to step into this miniature world of trains and plastic people.
"We have some girls doing a car wash on an old car over there and some guys doing roof work, and there's a funeral going on at the cemetery," Sterling says as he points out different scenes.
With a wry smile, Sterling points at a river scene built by a club member where a broken oil tanker has gone off the rails.
"He actually molded this train car, cut it in half when the thing was being poured and it makes it look like an oil slick. We're still waiting for the EPA to show up; it's been all these years."
Despite mature humor featured throughout, kids are still the focus. Ten-year-old Austyn Knight stands on a plastic footstool, getting a good look as a train loaded with candy canes, Life Savers and Hershey Kisses chugs along. Knight has a ready answer when asked which trains are her favorite:
"The Christmas train and the candy train," Knight says.
"We've been doing this with our grandkids for – how many years now?" asks Austyn's grandmother, Janet Knight.
"Probably 12 years," says mom Stacie Knight.
"So we've got big kids in here too. It's always fun to come down and they always add new stuff."
However, even in this perfect little world, wrecks do happen. As Sterling is explaining plans for the next addition to the display, someone alerts him to the derailment of the candy train. But just a couple minutes later, Sterling and the rest of the club have the broken-down candy train running again, for kids of all ages to enjoy.
The Old Boise Model Railroad Holiday Open House is free and will be open Christmas Eve and New Year's Eve from 10 a.m.-4p.m.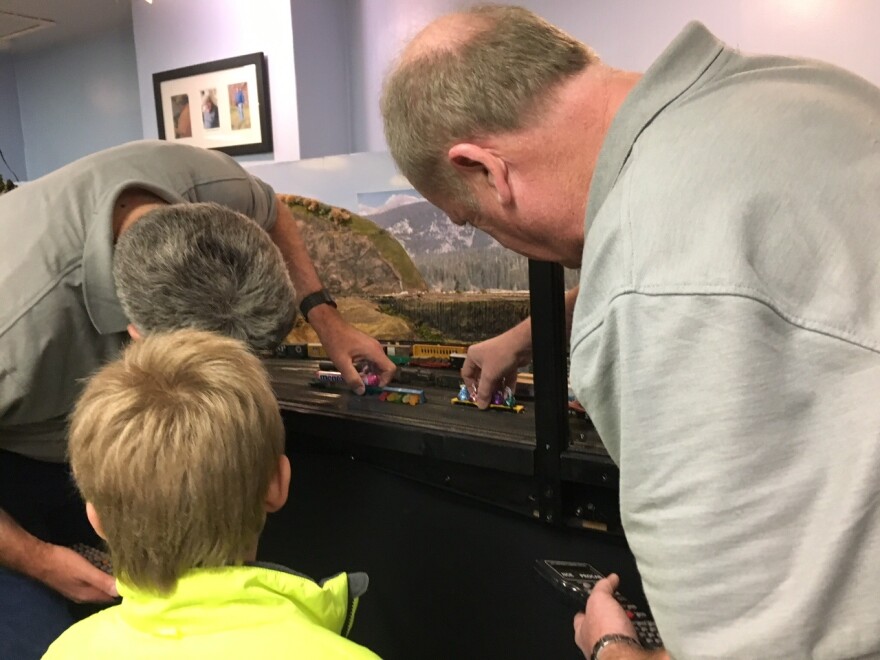 Find Frankie Barnhill on Twitter @FABarnhill
Copyright 2016 Boise State Public Radio