Boise State Public Radio News is here to keep you current on the news surrounding COVID-19, the disease caused by the novel coronavirus.
He's Just Not That Into Zoom: Dating In Boise During COVID-19
It was only a few months ago that people could awkwardly hold hands, twist straws into heart shapes over shared milkshakes, and maybe even steal a kiss. But things have changed. Now, profiles read things like 'if COVID-19 doesn't take you out, can I?'
Boise resident Sam Jackson thought the dating app Tinder might be a good way to connect with people other than his roommates.
"I redownloaded it in quarantine because I need to talk to someone," Jackson said.
Now, with coronavirus, even meeting up for a beverage in person is risky behavior. Online dating and profiles have been forced to adapt.
"It's like either you or the other person is like 'oh, how's your quarantine going? What are you doing to stay busy? Did you lose your job?'" Jackson said.
Popular dating platforms such as Tinder, Bumble and OKCupid say traffic is up, which means more people are wading through pandemic pick-up lines and selfies showing off supplies of toilet paper and hand sanitizer.
Riki Thompson, a professor at University of Washington Tacoma, studies online dating.
"I would call what is happening ... survival dating," she said.
The chances of meeting someone new outside a dating platform are now slim to none, Thompson said. This has made people more willing to engage with online messaging or even video chat.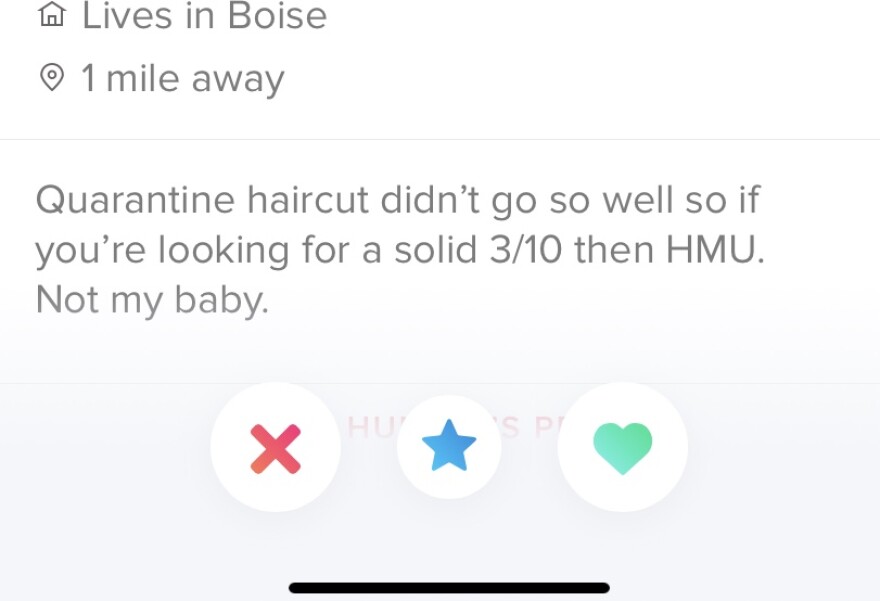 "The video dating concept is actually a game changer for them because it's allowing them to actually talk to people," said Thomspon, "without having to spend the time and the money to go out on a meet and greet and be disappointed."
The dating app Bumble introduced video-call on the platform last year. According to a Bumble representative, the feature saw 69% increase in video calls in the week of May 1 alone.
Thompson said it's also a way to 'screen' a potential partner, with little to no risk.
But some find video chatting even more intimate than a typical in-person first date. And online dater Sam Jackson said he won't do it.
"When you go on a date you're like your best self, but like if you facetime, you have to make sure your room's clean or you're letting this person in to see stuff in your house," said Jackson.
But dating hasn't been confined to messaging or video chatting.
"People are seeing people," said Thompson. "They're not all just chatting until this is over."
Boise resident Monica Leibowitz said she re-downloaded Tinder while in self-isolation and has gone on a few socially-distanced in-person meetups.
"I've gone to the park a few times and met up with people and they just sat like ten feet away from me and we just talk," Leibowitz said.
Thompson said some are choosing to practice so-called 'COVID Bonding.' This means picking partners to risk seeing over this period, but with rules in place to keep that risk acceptable.
"You're saying, 'I'm willing to share germs with you. I'm willing to be in your space and share space and take the risk,'" said Thompson. "Without barriers. Without a mask. Without rubber gloves."
But others are opting for a less restricted route: ignoring social distancing measures completely.
Jackson said he has been asked multiple times to "break quarantine" and hang out. But he isn't interested.
"Seeing someone who's not taking quarantine seriously is a huge turnoff. Like, I don't want to talk to you anymore," he said.
For some, dating without meeting in real life just isn't worth it.
University of Washington's Thompson said some online daters are welcoming the change of pace.
"I will say, a lot of people just said, 'I'm taking a break. This is great. Now I can get off these exhausting apps.'"
Jackson said the pandemic has made him realize how ready he is to get back into face-to-face dating when it's all over.
"I'm excited to date after," he said. "It's made me more interested in it, because it's like, 'Oh, I hate being alone and in quarantine.' It's not fun."
But for now, daters will continue swiping, messaging, video chatting and possibly breaking some rules until the true romance of dinner and a movie returns.
Follow us on Twitter @KBSX915 for more local news.
Copyright 2020 Boise State Public Radio
Member support is what makes local reporting possible. Support this coverage here.