Italian Game Bocce Ball Finds Growing Number of Northwest Players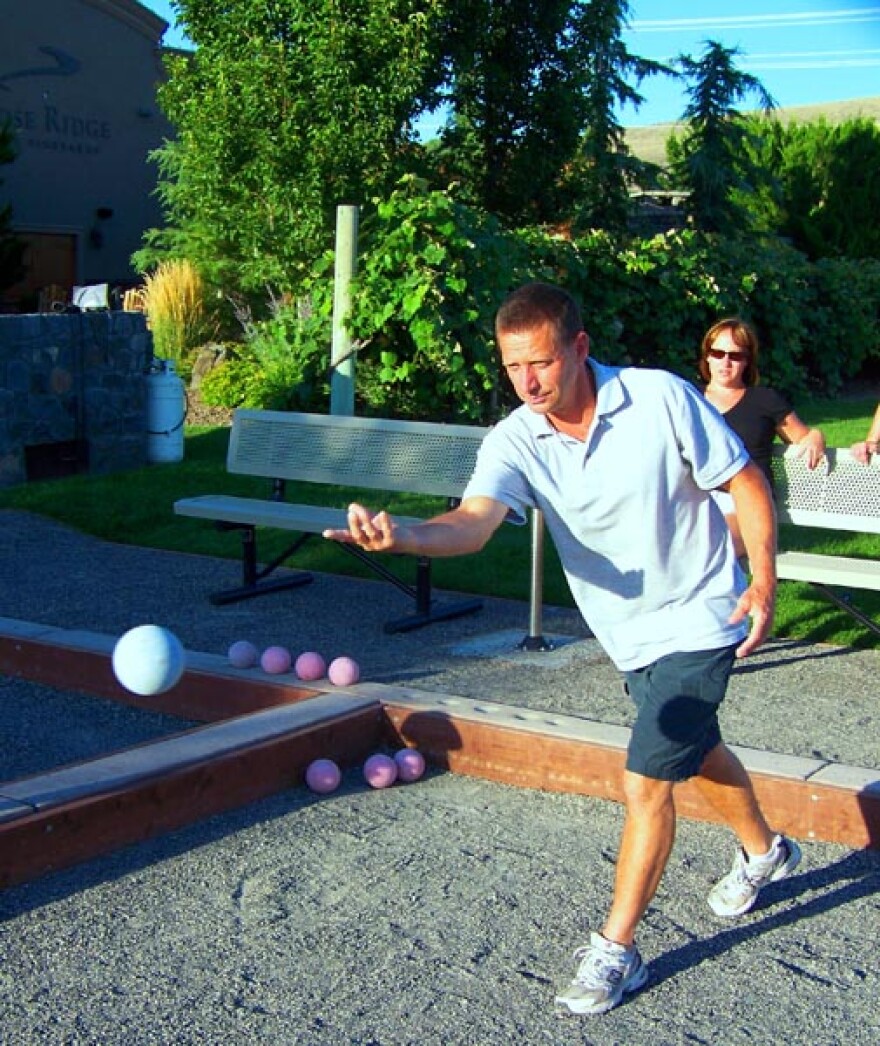 In Italy, bocce ball is known as a pastime for elderly men. You know the image: Men in starched shirts and creased pants playing serious games near the piazzas. Now, bocce is rapidly gaining popularity in Northwest cities and wine country.
One reason bocce is popular at wineries: You can play while never putting down your adult beverage. It's also a game that can draw out your competitive side.
"I like to talk a little trash. So it's a good game to talk a little trash," says Justin Michaud, a winemaker in his mid-30s. He says he's relatively new to the sport and he likes to taunt his competitors. "So if she threw that I might say, 'Throw it a little further.' But I threw it so I say, 'Perfect set up for my domination.'"
Here's how you play bocce. Take a grape-fruit-sized ball, and hurtle it toward the pallino -- which looks like a golf ball at the end of the court. The closer you get to that target, the more points for you. There are more rules, but basically that's it.
I'm standing behind Goose Ridge Winery's tasting room in Richland. Badger Mountain is lit up a sandy gold by the setting sun. The massive blocks of wine grape vines sway around us.
And tonight's bocce? Well it's on.
Justin Michaud: "OHHHHH!!! Save the best for Last!"
Every now and then the players pause for Michaud to rake the course. "Get to be your own little Zamboini driver," Michaud quips.
There are also families and friends out here playing. Bob Fussner is out here with his family. "I am competitive about everything. The bocce ball is the location -– it's the winery, relaxation, the evening, the mountains, it's the sunset. It's a Wednesday night. It's like having a weekend on a Wednesday night."
Bocce isn't huge yet but it's clearly growing. Goose Ridge put in four courts this year. And other wineries are getting into the game across the Northwest: Maryhill Winery and Bookwalter in Washington. Cana's Feast Winery, Methven Family Vineyards and Ponzi Vineyards in Oregon. And Eagle, Idaho's Woodriver Cellars. There are even leagues in Seattle, Portland and Boise.
Goose Ridge manager Jenn Nance says bocce really is an all-ages game. "I mean you don't need to be in your physical peak necessarily. I mean it's a game for everyone, it's a family friendly game. It's all about having fun."
Perhaps for a few hours, bocce hits the pause button on the slipping-away summer.
Copyright 2012 Northwest Public Radio