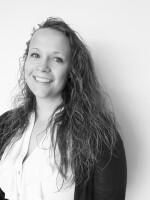 Lacey Daley
Digital Content Coordinator
As Boise State Public Radio's Digital Content Coordinator, Lacey implements the station's comprehensive digital workflow, manages all BSPR social media accounts, and maintains the overall navigational design of the website. Some of her digital handiwork for the station has won her awards from RTDNA's Edward R. Murrow regional competition, the Public Media Journalists Association (formerly PRNDI) and the Idaho Press Club.
She's also the cohost of You Know The Place, a quirky, curious podcast that explores the Idaho stores, shops, clubs and pubs you always pass by, but never seem to visit.
Prior to joining BSPR in August 2015, Lacey received her MFA in Fiction from Boise State. While getting her master's, she also taught English and Creative Writing classes at BSU and served as Associate Editor for The Idaho Review.
Lacey grew up in Buffalo, New York, which makes her a Bills fan by default. When not writing or working, you can find Lacey on a treadmill, in the garden, or taking care of her handsome pup.
Boise State Public Radio has launched a redesigned website that features a number of enhancements for our digital audience.

2020 has been … a lot. A global pandemic. Racial injustice. A historic election. Feeling like you'd rather skip the end-of-the year reflections and set…

Idaho is forging ahead in its reopening plan, but Gov. Brad Little said the state nearly missed the benchmarks needed to move forward. "We almost did not…

This isn't goodbye, it's see you later — yes, that's a wrap on Season 5, YKTPers. And we're sending you off with a little ditty that withstands the test…

Guided by evidential medium Kerry Ryan, LD & Joel get in touch with the high vibrations and contemplate why tragedy often inspires soul searching.Be sure…

This quaint single-family home in Caldwell is actually a complex Venn diagram of the following: music scene, skateboard scene, snowboard scene, art scene,…

Balloons are SO much more than clown props and party decorations, and by the end of this episode you'll get why. Come along, friends, as LD and Joel get…

LD & Joel explore the "sober curiosity" movement via shrub shots, then get schooled on the mothers & daughters of SCOBYS. (Also, give Joel a hug next time…

Boise State University is temporarily furloughing employees as a result of the financial fallout from COVID-19, according to an email sent to employees…

This week, LD & Joel explore the labyrinth that is Buck's Bags. From saddle packs to cheer uniforms, NFL bags to pontoon boats, this place is low-key a…