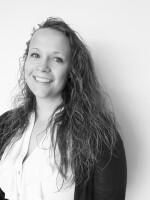 Lacey Daley
Digital Strategy Manager
Hi! I'm Lacey and here at Boise State Public Radio, I run all things digital. It's kind of a behind-the-scenes gig, but I love it – on any given day I'm editing, producing, distributing and analyzing everything from breaking news push alerts to fundraising elements to podcast launches and social media campaigns.
My background isn't in public media, but rather creative writing and teaching. In May 2015 I received my MFA in Fiction from Boise State and have spent every year since teaching and creating in the community.
I'm a big advocate for equity and inclusion and have a mild obsession with my dog, Remy (the handsomest German Wirehaired Pointer in the world). Other things I care about: bees, a good night's sleep, the Buffalo Bills and my wife – not necessarily in that order. 😉
1
of
4
— Meet Remy, the most dapper dog in the land.
2
of
4
— Forget dahlias & squash, these sunflowers are by far the favorite of my backyard pollinators.
3
of
4
— I'm sure we're not alone in this, but Cannon Beach is our favorite family vacation spot.
4
of
4
— First spring harvest from the garden and as you can see from the missing tip on the left spear, someone couldn't help himself.
As we get ready to send off a second pandemic year and ring in the next 12 months of unknowns, Boise State Public Radio reviews its top 10 most-viewed web stories of 2021.

Boise State Public Radio has launched a redesigned website that features a number of enhancements for our digital audience.

2020 has been … a lot. A global pandemic. Racial injustice. A historic election. Feeling like you'd rather skip the end-of-the year reflections and set…

Idaho is forging ahead in its reopening plan, but Gov. Brad Little said the state nearly missed the benchmarks needed to move forward. "We almost did not…

This isn't goodbye, it's see you later — yes, that's a wrap on Season 5, YKTPers. And we're sending you off with a little ditty that withstands the test…

Guided by evidential medium Kerry Ryan, LD & Joel get in touch with the high vibrations and contemplate why tragedy often inspires soul searching.Be sure…

This quaint single-family home in Caldwell is actually a complex Venn diagram of the following: music scene, skateboard scene, snowboard scene, art scene,…

Balloons are SO much more than clown props and party decorations, and by the end of this episode you'll get why. Come along, friends, as LD and Joel get…

LD & Joel explore the "sober curiosity" movement via shrub shots, then get schooled on the mothers & daughters of SCOBYS. (Also, give Joel a hug next time…

Boise State University is temporarily furloughing employees as a result of the financial fallout from COVID-19, according to an email sent to employees…