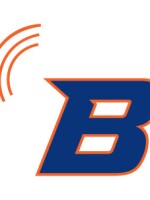 Staff
Our Purpose: Be at the civic, cultural and intellectual forefront of our community to create an informed, engaged public.

Our Mission: Produce, acquire and distributes distinctive programs and services that stimulate, educate, inform, and entertain those we serve using all appropriate media. Reach out to the community through strategic partnerships. Enables listeners to learn about issues and ideas that affect our communities, our nation and our world.

Our Vision: We will build a stronger community-centered broadcasting organization by focusing the station's new and existing resources where our listener and membership base is the strongest. Our goal is to build a more effective service emphasizing national and local programming that deepens the relationship between us and our listeners.

Our Values: Integrity, tolerance, professionalism, transparency, respect of our co-workers and respect for our audience
Boise Mayor Lauren McLean was invited, along with a select number of U.S. mayors, to participate in the UN Climate Change Conference. McLean says it's about being "at the table," not just with leaders of some of the planet's greatest oil producers, but with leaders who are committed to limit the rise in average global temperatures.

Ashley Ahearn takes a look at the impact that wild horses have on other wildlife and gets to know her own adopted horse.

Our region is losing millions of acres of agricultural land to development. And those trends may continue as land prices keep rising.

Don't miss the movie night of the season! For the second year in a row, Boise State Public Radio and The Flicks are preparing what will be a fabulous evening of previews, games, special guests and some wonderful surprises.

Snow is beginning to fall high in the Rockies, forming the main water supply for the Colorado River.

Gray wolves are one of the most controversial animals in the west. And how you manage the species depends on where you're standing.

The West has tens of thousands of wild horses. And sometimes it seems there are almost as many opinions on what to do with them.

Geothermal energy is a unique feature of the Mountain West. It powers Yellowstone's geysers and heats dozens of buildings in Downtown Boise. Now researchers in Utah are exploring new ways to tap into that underground heat, as a substitute for fossil fuels.

Across the southwest, the amount it costs to have water piped to your homes is likely to go up. City utilities have to replace pipes and other infrastructure that's getting old, and invest in new systems that'll help them survive a drier future.

The Morrison Center is celebrating a big birthday this year, and like most seasons, they are celebrating in style.