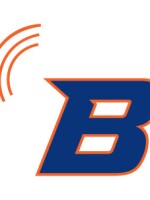 Staff
Our Purpose: Be at the civic, cultural and intellectual forefront of our community to create an informed, engaged public.

Our Mission: Produce, acquire and distributes distinctive programs and services that stimulate, educate, inform, and entertain those we serve using all appropriate media. Reach out to the community through strategic partnerships. Enables listeners to learn about issues and ideas that affect our communities, our nation and our world.

Our Vision: We will build a stronger community-centered broadcasting organization by focusing the station's new and existing resources where our listener and membership base is the strongest. Our goal is to build a more effective service emphasizing national and local programming that deepens the relationship between us and our listeners.

Our Values: Integrity, tolerance, professionalism, transparency, respect of our co-workers and respect for our audience
Join Boise State Public Radio and the Hispanic Cultural Center of Idaho for a discussion on issues facing the Latin@ community including housing, employment, treatment of agricultural workers, and more.

Get the latest information about current wildfires across Idaho, including emergency evacuations, smoke and air quality.

We are so excited to be having our first Another Round in more than a year with our friends in McCall. Come join us for drinks and conversation with your public radio team.

The news and programming teams at Boise State Public Radio were recognized for their excellence during the annual awards ceremony by the Idaho Press Club.

We pick up on our story about Twin Falls Manor, Idaho's first COVID-exclusive long-term care center. Over the course of the pandemic, the Manor cared for…

As the pandemic raged last spring, Idaho officials worked to protect the most vulnerable seniors from the virus by isolating infected people in special…

Traditional journalism is a top-down model. Typically, a reporter or editor identifies a story within a news organization, using their professional…

How (And Why) To Talk To Our Kids About Racism In Idaho

[NOTE: This is an edited version of a show that originally aired June 15, 2020. This version is intended for contest entry purposes. Click here to listen…

As of Feb. 8, 2021 this post will no longer be updated. If you are looking for information regarding when and where to get your COVID-19 vaccine, click…

As of Feb. 8, 2021 this post will no longer be updated. If you are looking for information regarding when and where to get your COVID-19 vaccine, click…