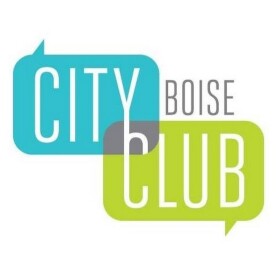 BSPR News: Sundays following the forum at 8 P.M. and Tuesdays following the forum at 7 P.M.
"Things Happen When People Start Talking And Listening"
That's the motto of the City Club of Boise. Founded in 1995, its mission is to advance open and civil discussion about critical issues affecting our community, the City Club presents monthly forums on topics of local, national and international importance.
Details on upcoming events & forums can be found at the City Club of Boise website.
Boise State Public Radio broadcasts the forums on the Sunday and Tuesday evenings following the date they take place. You can learn about becoming a member, register for forums and find an archive of their events at their Official Website: www.cityclubofboise.org
An assessment of education in Idaho with Debbie Critchfield.

Why is today's racial wealth gap so stark and why is it growing?

A forum with Idahoans from refugee backgrounds who are contributing to Idaho's vitality, diversity and economy.

The 8th annual Marilyn Shuler Human Rights Forum - A Conversation About Mental Health

Is Boise's creative economy crucial to the dynamic character and cultural growth of Idaho's capital city?

A short history of the Jewish faith, culture and Judaism in Idaho with Rabbi Dan Fink of Congregation Ahavath Beth Israel

The hidden history the Bear River Massacre and how it was a defining moment for the Northwestern band of the Shoshone Nation.

What Idaho Supreme Court's validation of abortion bans means for future access to reproductive health in the Gem State.

The pundits shared their thoughts and expectations for the 2023 Idaho Legislature with the City Club of Boise.

As Bogus Basin celebrates its 80th Season, General Manager Brad Wilson discusses changes are helping assure Bogus Basin's future, and previews what's next for the non-profit.