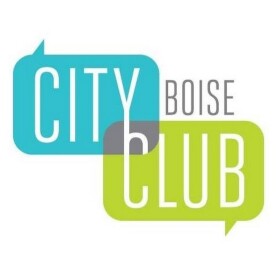 BSPR News: Sundays following the forum at 8 P.M. and Tuesdays following the forum at 7 P.M.
"Things Happen When People Start Talking And Listening"
That's the motto of the City Club of Boise. Founded in 1995, its mission is to advance open and civil discussion about critical issues affecting our community, the City Club presents monthly forums on topics of local, national and international importance.
Details on upcoming events & forums can be found at the City Club of Boise website.
Boise State Public Radio broadcasts the forums on the Sunday and Tuesday evenings following the date they take place. You can learn about becoming a member, register for forums and find an archive of their events at their Official Website: www.cityclubofboise.org
Two GOP leaders in Idaho discuss the future of conservatism in the Gem State.

A discussion of the disputed 1876 election and it's impact on Reconstruction with historian Dr. Raymond Krohn.

2021 Candidates for Boise City Council Districts 1, 3 & 5 Discuss Boise's Future.

How students are helping guide sustainability initiatives in the Boise School District.

A City Club of Boise virtual panel discussion of what lies ahead for political and civic discourse in Idaho.

A City Club of Boise virtual panel discussion on policing and race with Boise's Chief of Police Ryan Lee.

The City Club of Boise welcomed Idaho's Legislative leadership for a review of the historic 2021 session.

A panel of reporters and editors discuss the ramifications of the historic 2021 Idaho Legislative Session.

The City Club of Boise heard from three Idahoans who arrived in the U.S. as refugees and share their experiences of resettling in the Gem State.

City Club Of Boise surveys the long and always evolving fight for human rights in Idaho